The Big Sustainability Awards, which champions businesses and public organisations making a difference to the planet, has crowned measurable.energy with the Carbon and Energy Reduction award.
The Big Sustainability Awards ceremony, organised by the Southern Sustainability Partnership, had multiple award categories for this year including Carbon & Energy Management, Collaboration, Communicating Sustainability, Finance For Good, Net Zero, Startup Of The Year, Waste, Water Management and The Unsung Hero.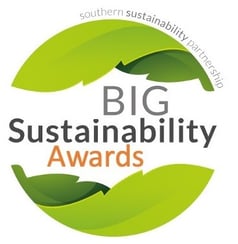 This year's finalists for the Carbon and Energy Management Award were Salvis Group, full-service energy management and building services engineering specialist, and Zenergi, energy and environmental consultancy aiming to make a positive difference in the world.
Anita Potten, co-director of The Southern Sustainability Partnership, said: "measurable.energy won this award as their mission to eliminate wasted energy in buildings is doing amazing things to help UK businesses reach net zero. It was a tough choice for the judges as all the finalists are bringing about positive change, so we would like to take this opportunity to congratulate them all."
Dan Williams, our CEO and Co-Founder added: "Winning this award is a huge achievement for the whole team! We're really honoured by this recognition and can't wait to see what's next for measurable.energy."

We also received the Sustainability Champion award at the Big Sustainability Awards 2022, which is a great honour and a huge testament to the positive impact our work has.

All this recognition comes at a great time for us as our technology is launching into the commercial market. Learn more on that here.